The Dimensity 9000 SoC outperforms the Google Tensor and Exynos 2100 in AI benchmark tests.
In February 2022, smartphones with Dimensity 9000 are expected to be released.
Last month, MediaTek unveiled the Dimensity 9000 CPU. The new SoC is built utilising a 4nm technology and is based on the new ARM v9 architecture. LPDDR5x RAM, 180Hz refresh rate Full HD+ resolution display, and Bluetooth v5.3 standard are all supported by the Dimensity 9000 processor.
Devices with a Dimensity 9000 rating have yet to hit the market. Smartphones featuring this new SoC are expected to debut in February 2022, according to reports. According to sources, the Redmi K50 series would be the first to employ the Dimensity 9000 SoC. While we wait for actual performance of the new SoC on phones, AI Benchmark has released a preliminary benchmark result for the chipset.
Dimensity 9000 Tops AI Benchmark Test Result
According to the AI Benchmark listing, the Dimensity 9000 is at the top of the list. The chipset outperformed Google's Tensor, Exynos 2100, and Kirin 9000 processors in terms of performance. It goes without saying that the actual performance of the Dimensity 9000 on smartphones will be more important than the benchmark test results.
To recall, Google's Tensor topped the AI Benchmark test result with a score of 256.9 before the release of the Dimensity 9000 SoC. The new Dimensity 9000 SoC contains one ARM Cortex-X2 CPU core clocked at 3.05GHz, three ARM Cortex-A710 CPU cores clocked at 2.85GHz, and four ARM Cortex-A510 CPU cores clocked at 1.8GHz, according to the specifications.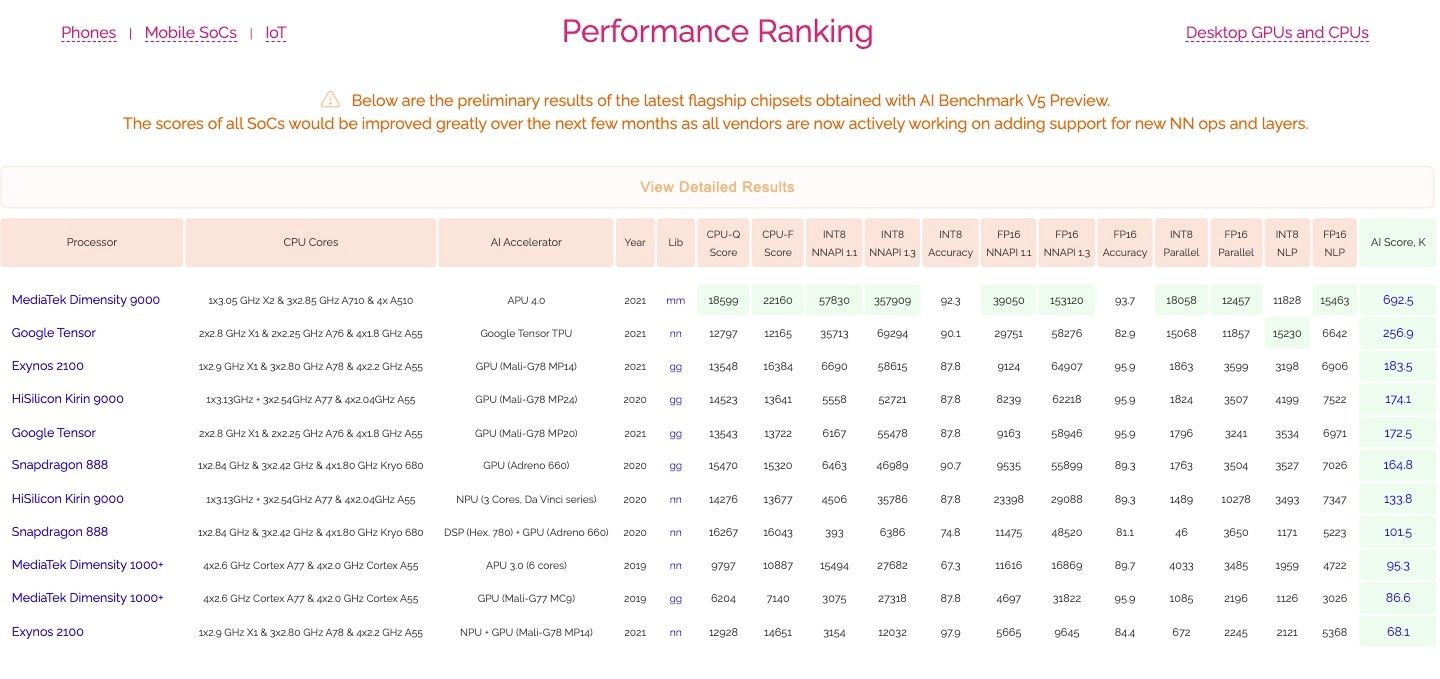 A 5th generation APU is also included in the SoC, which is said to provide 4x higher performance and efficiency than the previous generation chipset.
A 10-core ARM Mali-G710 GPU is included with the Dimensity 9000. The ARM Mali-G710 GPU is said to be 60% more power efficient than the Adreno GPU in the Snapdragon 888. At Full HD+ resolution, the CPU supports a refresh rate of up to 180Hz, and at QHD+ resolution, it supports a refresh rate of up to 144Hz.
Wi-Fi 6E 22, Bluetooth v5.3, and the latest Beidou III-B1C GNSS standard are all supported by the SoC. It can also capture 4K HDR video from three cameras at the same time. The Dimensity 9000 is the world's first ISP capable of shooting 320MP photos, and it can handle three 32MP cameras. The SoC can also record 8K video at 30 frames per second and 4K video at 120 frames per second.